ENERGY THAT CHANGES:
GRID-ACCEPTABLE ALTERNATING CURRENT
THE HEART OF EVERY SOLAR ENERGY SYSTEM

Grid tied supplementary systems
• Solar panel arrays connected to SMA inverters ( either single or three phase)
• These systems do not have storage (batteries) and would only supplement the power provided for by the municipality/ Eskom.
• Complex return of investement: dependant on the initial tariff and tariff increases, between 3-7 years.
• Lifespan of installation: 25 years plus.
• Warranty:
Solar panels carry a 25 year production warranty and the inverters have a standard 5 year warranty which can be extended to 25 years.
This option would be recommended for commercial buildings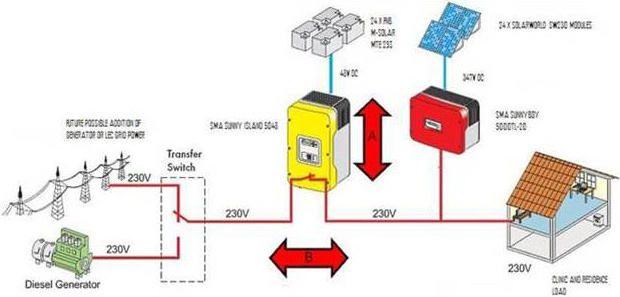 SMA Advantages
• Highest efficiency (97%) on inverters
• Inverting at source reduces cable losses
• Sunny island system synchronises all power sources and loads
Intelligently provides power from batteries during day time operation should the system demand it